Previous Interviews
---
E-mail Brad "
here
.
---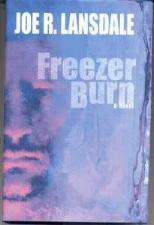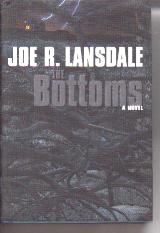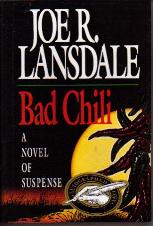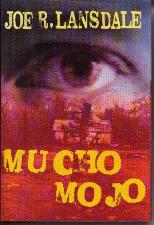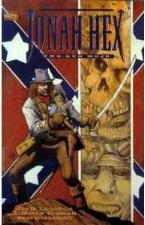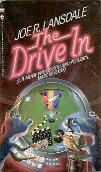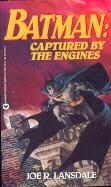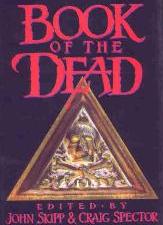 For Joe's Website
"Click Here"
Joe R. Lansdale: Mojo Writer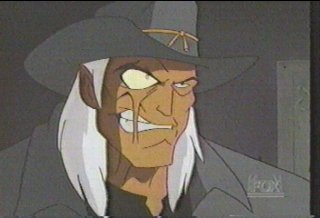 "I will always attempt to Do the Right Thing... even it means killing every last man, woman and child in this here town, twice over." -Jonah Hex
"Not along after, Murray awoke and looked at his wife in the crook of his arm. She lay there with her face a grimace, her mouth opening and closing like a guppie, making an "uhhh, uhh," sound.
A nightmare perhaps. He stroked the hair from her face, ran his fingers lightly down her cheek and touched the hollow of her throat and thought: What a nice place to carve out some fine, white meat.
What in the hell is wrong with me? Murray thought, and he rolled away from her, out of the bag. He dressed, went outside and sat on the rock. With shaking hands on his knees, buttocks resting on the warmth of the stone, he brooded. Finally he dismissed the possibility that such a thought had actually crossed his mind, smoked a cigarette and went back to bed.
He did not know that an hour later Toni awoke and bent over him and looked at his face as if it were something to squash. But finally she shook it off and slept."
-From DOWN BY THE SEA NEAR THE GREAT BIG ROCK
I've been scared before, afraid of what someone might say about what I write, but not as scared as I am now. It's hard for me to be a critic when I'm talking about one of the writers that inspired me to sit my ass down and peck out articles like this one. Joe R. Lansdale is by far the most versatile writer I have ever come across. From comedy to horror he consistently gives the reader the one thing that is so lacking in the work of so many others, a good story.
My high school English composition teacher gave me my first Lansdale book. She was convinced that I'd make a good writer if she could just keep me interested. The book, "Nightrunners", was about a gang of punks that corner a woman in a cabin in the woods. Pretty cliché. Right? Not by a long shot. The "God of the Razor", a hellish figure with hypodermic needles for teeth and barbed wire for hair is driving the leader of the gang to kill her.
Joe, believe it or not, answers his own fan mail, and even agreed to do an interview with me!
---
ZPB: You're called a "Mojo Writer". For the record, what is a "Mojo Writer"?

JRL: The Mojo title was invented by my friend and web master of my web site, operator of TEN ANGRY PIT BULLS. It means magical. It can also mean sexual, but I think we'll have to go with the first definition as far as my stories go, though I suppose there are elements of that as well from time to time.

ZPB: If you had to pigeonhole yourself, in what genre would you put your work?

JRL: I wouldn't pigeon hole myself other than to say I'm the Lansdale genre.

ZPB: In Splatterpunks, Paul M. Sammon said that the true pioneers of writing, those that go too far, are the guys with arrows in their backs. Has something you have written ever put an arrow in your back?

JRL: I've had my share of people not liking what I'm doing, or thinking early on that I was destroying modern civilization as it now exists, but mostly that hasn't been the case. I've been received pretty well, to be truthful.

ZPB: Many of your darker stories have a deep racial undertone as in "Night they missed the horror show", and "The Pit". Do you feel that this type of racism still exists and why is it such a good source of horror fiction?

JRL: Sure it still exists. And everywhere. I don't think it is the norm, however,not as it was up until the mid-sixties, through the seventies. It's changed dramatically, but it's still there and it's a powerful theme and a terrible social problem to put it mildly. And I mean racism of any kind. It works in reverse as well.

ZPB: What/Who were your greatest influences when you started writing?

JRL: I started writing as a kid, and early on four writers were the most influential. Uncle Remus, Homer, especially the Iliad. I liked the Odyssey, but the Iliad I was nuts about. I still have my original copy somewhere, and I look at it now and wonder how as a kid I could be so excited by it. I read it from cover to cover. It's an epic poem, but even as a kid I was thrilled by all the action the description of weapons and battle, the characters, the gods, the sex, the food. Those guys liked to eat. Kipling's THE JUNGLE BOOK just flipped me out, and then when I read Burroughs, especially the Martian series, my desire to be a writer grew even more, and at that point I knew I had to be one. Right now I'd like to kick him in the ass. This is hard work. Honestly, those were my earliest influences, later on, Harper Lee, Flannery O'Conner, Ray Bradbury, William Goldman, Robert Bloch, Fred Brown, Hemingway, Fitzgerald, Raymond Chandler, Dashiel Hammett, James Cain, Pete, Hamil, Charles Wileford, many others.

ZPB: What would you say to critics who say your work is gore for gore's sake?

JRL: Well, it isn't that gory most of the time. Dark maybe, and frankly I don't much care for work that's gore for gore's sake myself. I like stories strong on invention and/or character that are not afraid to deal with the issues of life and death.

ZPB: Who are your favorite writers? What are your favorite horror movies? Westerns?

JRL: I love Flannery O'Connor. All of her work. WISE BLOOD is a great novel, and A GOOD MAN IS HARD TO FIND is a great short story collection. But all of her work is great. My favorite novel has always been TO KILL A MOCKING BIRD. though LONESOME DOVE by Larry McMurtry, LITTLE BIG MAN by Thomas Berger . Favorite movies, TO KILL A MOCKINGBIRD, CASABLANCA, LONESOME DOVE, LITTLE BIG MAN. CASABLANCA is the only one that wasn't a book (or at least I don't think it was) and the others are among those rare things--movies very faithful to the books. The authors I listed earlier are still writers I love or appreciate. I'm also fond of Memoirs. I like reading those. I loved Jimmy Carter's recent memoir, AN HOUR BEFORE DAYLIGHT. He gives Christians a good name. I like Homer Hickham's three autobiographical books, especially ROCKET BOYS, also known as OCTOBER SKY. Another good movie very much like the book. I could go on and on. I love to read. Horror movies. I love I WALKED WITH A ZOMBIE, the original CAT PEOPLE, THE HAUNTING OF HILL HOUSE. I love a lot of low budget films of more recent times as well, but it's odd that most of the films I really love are quiet and carefully composed. They're the ones that have true echo with me. As for Westerns, I named LONESOME DOVE. I love THE SEARCHERS, RED RIVER, though the ending sucks, RIO BRAVO, one of the most underrated Westerns ever made. Two others were made from this same basic script, and EL DORADO is good, but RIO LOBO sucks for the most part. I love SHANE, also a great novel. THE SHOOTIST, also a favorite Western novel of mine by Glendon Swarthout, who is a favorite writer of mine. Died a few years back. All of these list, horror, western, or otherwise, could go on and on.

ZPB: Of all the comic books out there, why Batman and Jonah Hex?

JRL: I grew up on BATMAN and at first SUPERMAN was my favorite, but the idea of BATMAN appealed to me because he didn't have super powers, used his body and mind to become this great crime fighter. I learned to read through comics. I encountered JONAH HEX later, and the stories I remembered as strange and dark and magical, with that gritty western touch. Later, when I looked back over the old copies, just before I began to write them, I found that I had actually remembered them as more horror like than they were. Offbeat, maybe, and sometimes a little weird, but not how I remembered them. I tried to write my versions with artist Tim Truman to be as I had remembered them. Same with BATMAN. When THE DARK KNIGHT RETURNS by Frank Miller came out, that's the way I remembered Batman, but he really wasn't that way when I was growing up. Those elements in both series were there, however, and I picked up on those and retained them more than other aspects of the characters. I bet Frank Miller did something similar.

ZPB: Your depiction of Batman is more human then many other versions. What would you love to have Batman do if you had complete editorial license?

JRL: I've done my Batman in television and in my novel, CAPTURED BY THE ENGINES. I also did a Young Adult novel where he's really a minor character. I wouldn't mind another crack at him, but I feel pretty fulfilled.

ZPB: While working on BTAS and STAS, did you ever feel restricted by writing for a cartoon?

JRL: The first three scripts I wrote for the Batman show were great fun. You were restrained a little, but nothing much. It made you work harder to be clever. The original show was very adult, while appealing to kids. Someone decided it was too adult, and by the time I wrote Critters, I did feel restrained. Superman, I did one and it was rewritten--for the better. I never quite got a handle on Superman, and the series developed in the same spirit as the later Batman, so it wasn't my cup of tea. I haven't seen the NEW JUSTICE LEAGUE, though I would like to.

ZPB: Have you ever been afraid to publish a story for fear that it had gone too far?

JRL: No. But I started one once that I felt had gone farther than it needed to go. I felt it was just going far to go far, so I discarded it. That's not a good reason. Also, with DRIVE-IN DATE, I felt I had gone far enough. Been there done that, and it's not supposed to just be a gimmick. I wrote that one sincerely, but when it was finished I knew I was over that sort of thing. Darkness still creeps into my work, and I never rule anything out, but I'm moving in new directions now because I have to. Tired of the other.

ZPB: What are you currently working on?

JRL: A novel, but I won't discuss it here. Takes the energy out of it.

ZPB: What genre would you like to try next? Will we ever see a romantic novel by Joe R. Lansdale? Maybe something with an introduction like "She was just a small town girl from east Texas, but her love was like her trailer and her ass, double wide!"

JRL: I never know too far ahead what I'm going to do. I will be writing more crime stories, but I know I have a novel of the west I'd like to do. Maybe someday.
---
We'll keep our fingers crossed Joe!