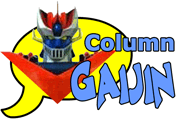 Why Gaijin?
Gaijin: A savage, barbarian, foreigner, and westerner. A derogatory term used by the Japanese for any westerner. Now that you know what a Gaijin is, you are probably wondering why I would call a column on Japanese toys, Gaijin.

It's because I am a Gaijin.
Previous Columns
Gundam RX-78 GP01: Americans once again get the better deal.
Return of the Gai-jin Machinders
---
E-mail Column Gaijin and say "Hai-ya!"here.
---
G-Force 12" Figures!

Then

I would have killed for Battle of the Planets figures as a kid. I sat glued to the TV every day watching Mark, Jason, Princess, Keyop and Tiny battle Zoltar. Whenever my friends and I played "G-Force" I was the introspective loner Jason. I even went so far as to make my own Jason figure out of a Mego Robin in an home-made Jumpsuit.

Imagine my surprise a few years ago when I discovered that BOTP ("G-Force") was also Gatchaman and Japanese kids had tons of toys and figures of these guys!
Popy (Largest Japanese Toy Company) even made 8-inch figures of them in a joint venture with Mego! So how come they never released them over here? Curse you Sandy Frank (imported the Cartoon) for bringing us the Anime without hitting Marty Abrahams (head of Mego) up for the toys!
Even so many years later I was foiled in getting my Jason (Named Joe in Japan???) figure. All of the vintage figures are very hard to find and carry a pretty decent price tag. The only new figure released were 12-inch Medicom figures of Mark and Jason that carried a $70-$80 price tag each, if you could find them. The Medicom figures were really top notch and were based on a CC GI Joe body, but I just couldn't bring myself to pay $70+ for them.
Recent interest in "G-Force", Sparked in part by the upcoming Alex Ross BOTP comic book series, has generated several new lines of toys in Japan, but most are still only available as imports here in the U.S.

Now

So what's an American G-force fan to do? Look no further then Diamond Comics. Diamond is not only offering several Japanese G-Force toys at Japanese prices, they are also going to offer re-issues of both Medicom figures for $29.99 each, that's 50% or more off the original price that was offered in Japan! At the risk of sounding like a Ginsu infomercial, wait, it gets better. Since the release of the original figures Diamond has severed ties to Hasbro and no longer uses the CC GI JOE body for it's figures. It now uses a more articulated body similar to the highly articulated Dragun 12" body.

Diamond has already pulled off fulfilling on of my childhood dreams by offering reissued Shogun Warriors (Jumbo Machinders) for considerably less then Japanese retail and it appears that they are going to make another of my childhood dreams come true with these figures.
And if that isn't enough you can get a 12" figure of Princess to have the boys fight over. -Brad

Brad Walker collects American and Japanese action figures, customizes them, and "hangs out" by sitting on the hood of a car drinking Colt.45 at his local Dairy Queen parking lot. "Gai-Jin" is what he calls himself, but most folks call him "white trash". You can reach him at gaijin@zappowbang.com if he can get his PC to work, and if he's in a good mood he will reply.
You can also visit his custom action figure site here: http://members.tripod.com/~bwalk06/. For "big ass robot shampoo bottles (Shogun Warriors)" go here: http://members.tripod.com/~bwalk06/shogun/.